On Tuesday, 23rd of January, over a hundred members attended the 2018 OCA's Annual General Meeting
The independent election officer for the meeting was Patrick Melly of the Greater Cape Town Civic Alliance. Meeting was chaired by Tauriq Jenkins.
Acclaimed Observatory artist and guest musician Adamu Da Silva graced the Community Centre Hall while members were being seated. Adamu has shared stages with African giants Manu Dibango, Salif Keita, Ismael Lo, and has supported Crosby, Stills and Nash, and Tracy Chapman on tour.
This year had the highest number of nominees ever put forward for the Management Committee. Fourteen OCA members ran for elections of various subgroups and portfolios.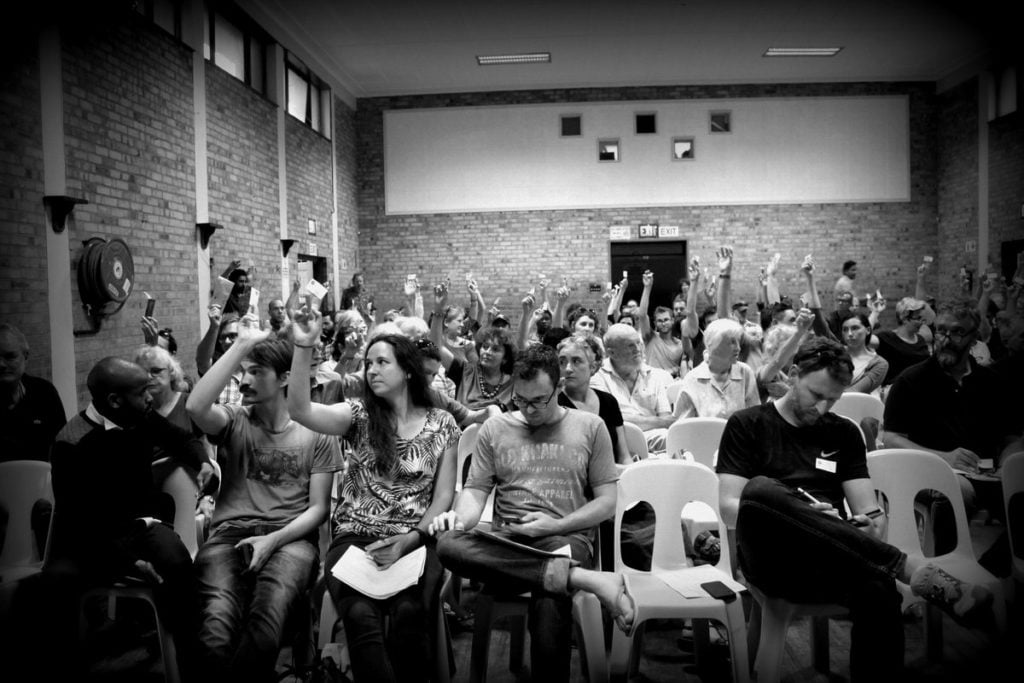 7 out of 11 positions on the Management Committee are women – making it the highest female representation in the history of the OCA leadership
The 2018 OCA Management Committee members are :
Chair – Tauriq Jenkins
Vice – Chair – Gwen Dereymaeker
Secretary – Sarah Driver – Jowitt
Treasurer – Joy Robinson
Large Development Group – Leslie London
Architecture and Heritage – Tracy Hyde
Two Rivers Urban Park Representative – Louise Naude
Arts Culture and Sport – Dale Forbes
Communications – Murray Hunter
Car Park – de Vos Rabie
Social Issues – Carolyn Neville
Two OCA portfolios that are not elected at the AGM are the Business Forum (Oliva Andrews), and, the Ward 57 Representative (Tauriq Jenkins).