Please help us keep our supportive housing project open throughout Winter 2021!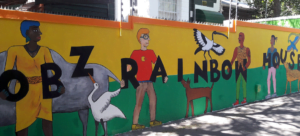 The Obz Rainbow House needs community support to stay open and carry our clients, previously living on the streets of Obs, through winter 2021.
The Obs Pasta Kitchen is partnering with OBSID to fundraise for the Obz Rainbow House.
Opened in lockdown last year The Obz Rainbow House has been a place of refuge for street based members of the Obs community who were looking to take the next step, get off the streets and find work and shelter.
Daily support and work, hot meals, a sense of community and a warm bed has given the group living here a new lease on life – but funding is tight.
We need your support to raise awareness about this great project and to keep it open, coming together to raise R60 000-00 towards rental and living costs until the end of September 2021.
The Obs Pasta Kitchen is inviting you – an active citizen, a community influencer and an integral part of the fabric that makes Observatory different – to an online community meeting on the 8th June 2021 at 17h00.
We'll introduce the project, show you around virtually, share some stories and then brainstorm ideas on how we can raise the funds.
Please RSVP to obspastakitchen@gmail.com before the 4th June 2021 to receive the Zoom link.
If you're keen to make a monetary donation to this great project, please see banking details below:
Obs Pasta Kitchen: International Association for Human Values  
Reference: ObzHouse
Bank: First National Bank 
Branch: Lenasia Branch 
Branch code: 250737 
Account number: 620456
Together we can keep this project open through winter 2021.