The foyer of the District Six Museum in Cape Town, which is looking for donations from the public to keep it going through the Covid-19 pandemic. (Photo: Suné Payne)
NEWS | By Suné Payne | 8 September 2020
After more than five months of lockdown and no income, the District Six Museum in Cape Town is struggling to survive. But it's not just the lack of revenue that is a problem, it's the lack of shared experiences that is of concern to the acting director.
"Like many institutions, we are feeling the dire impact of the Covid-19 pandemic. We do not foresee that visitor numbers will increase in the next six months and so are urgently seeking your support," reads a notice on the website of the District Six Museum. The museum, located in Buitenkant Street, Cape Town is urgently looking for financial support.
Acting director for the independent museum Chrischené Julius told Daily Maverick this is one of the few spaces in Cape Town  where you could see your history reflected back at you. And what a history it is – the museum is dedicated to the people and memories of those who lived in District Six before almost 60,000 were removed under the Group Areas Act.
Amid a financial crisis that is a threat to the sustainability of the museum, Julius had been busy with media interviews all day when Daily Maverick visited her.
She explained the importance of the museum to the history of the country. "With District Six, there is a restitution process, so there is a sense that the injustice that was meted out to people during apartheid will be rectified through a restitution process… But what I think the museum really strives to achieve … is that it is an important foundation for delivering justice to those affected by the removals."
Walking into the museum foyer, it's clear that this is a place of memory, with signposts of various iconic streets like Hanover, Constitution and Chapel. Suitcases line the hallway, along with picture frames and a copy of Buckingham Palace by Richard Rive, and the walls are adorned with pictures of recipes, from milk tart to tomato bredie to koesisters. Hearing the police sirens outside, it's hard to imagine this quiet, empty place holds the history of a once multicultural and multiracial community.
Read in Daily Maverick: District Six: A stroll down memory lane
Julius adds: "But there is a loss of dignity with forced removals – there's hurt, there's trauma that people experience and the museum is an important part in working through those stories and those emotions… I think it's a space of connections, and there are so few spaces in Cape Town where we see our history as part of the public history of the City."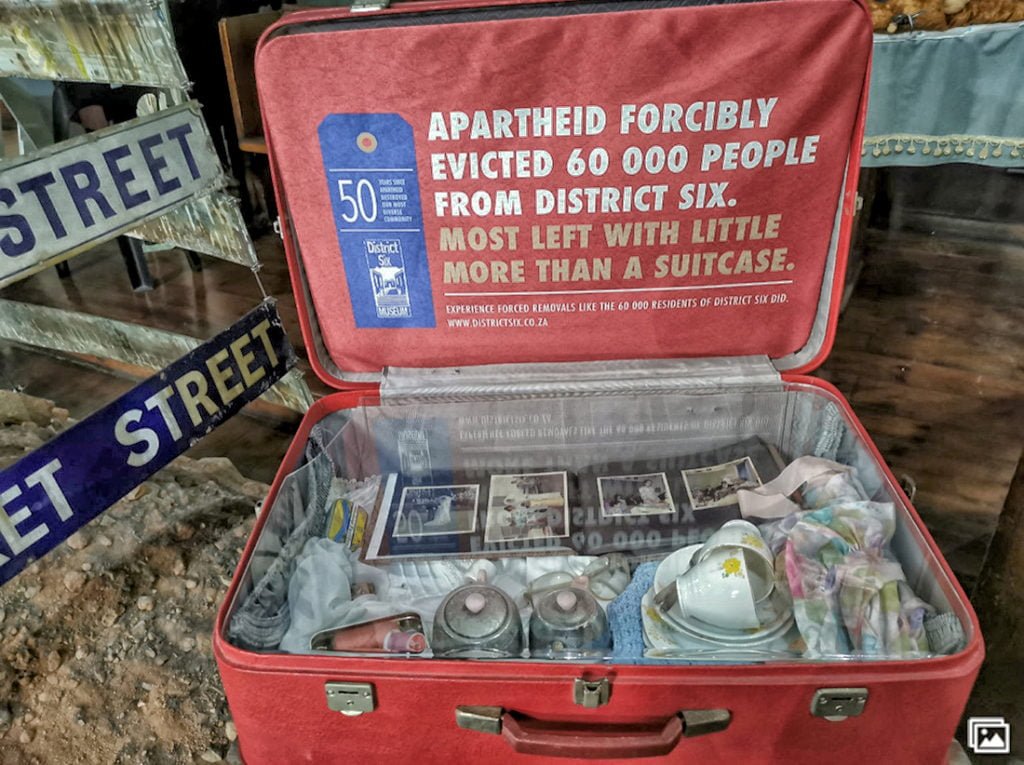 On display: Residents carried their belongings in suitcases when they were forcibly removed from District Six during the 1960s and 1970s under the Group Areas Act. (Photo: Suné Payne)
She believed that when South Africans visited the museum, "they recognise images, certain installations; it creates a connection for them with their past, and allows them space to remember it in a way that is sometimes traumatic and sometimes also safe".
International visitors, she said, once they've experienced Table Mountain and the V&A Waterfront, come to the museum and have an epiphany. "I think it's one of the first times that they actually really get a sense of spatial inequality in Cape Town and its legacy," said Julius.
Local visitors include former District Six residents and young people who come for tours. Julius said: "With the younger people, it's very interesting, when they visit the museum, they don't know about apartheid, they can't conceive of it literally, and the workshops that we put them through – again, it's like a lightbulb – they're sort of able to imagine and emphathise with what is means to experience apartheid".
She said this is a very important shift for young people to experience, especially while they're still in the school system.
But ultimately, without visitors – both local and international – she said: "I think we miss that sharing because it's a moment of engaging with visitors in order to share a really important story about the city and how it was shaped."
But like many institutions, the Covid-19 lockdown had taken its toll on the museum. Last week, the museum sent an open letter to its email subscribers asking for donations to help the museum.
Speaking about the donation campaign – with the museum requesting donations of " love letters", Julius said the idea of asking for love letters came from the aparthied era. "A lot of District Sixers spoke about the love letters – but nobody quite understood what they were talking about." She added that 'love letters' was the term used for eviction notices, "and so what we really are asking is that people sort of twist that idea in their brains and actually just send a love letter to the museum to the value of the guided visit or the self-guided visit". The price of a guided tour is R110 but there is also a self-guided tour which costs R50, which could be a monthly donation. She said feet through the door helped, but if people are able to donate more, "that would be fantastic as well".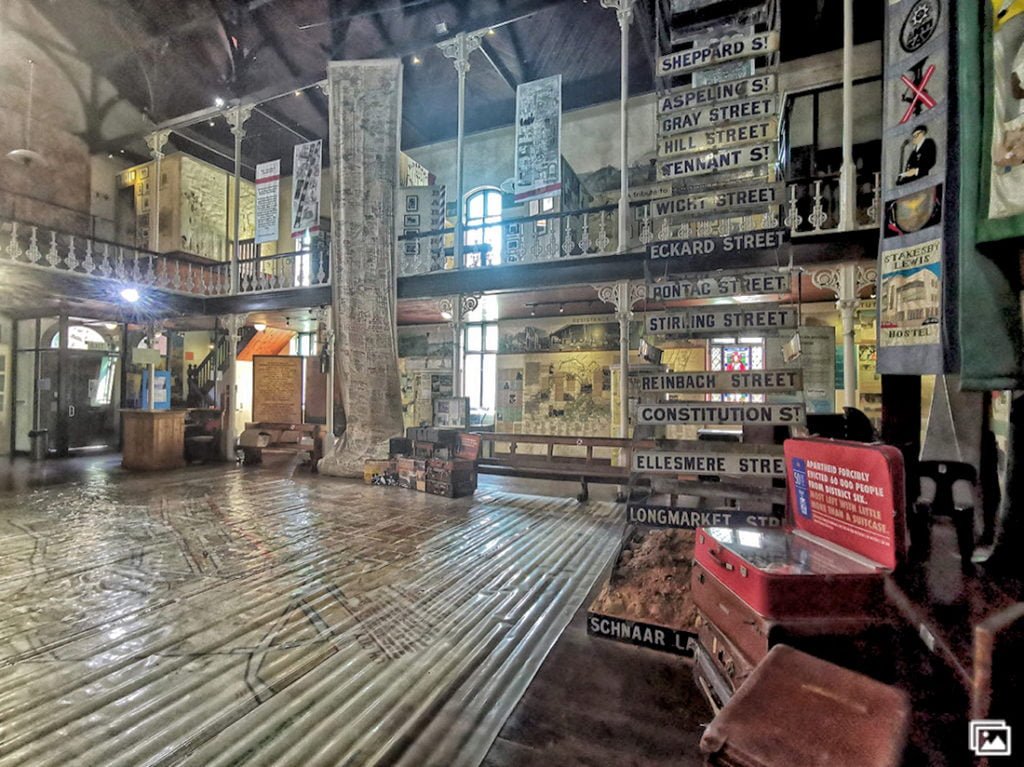 The District Six Museum in Cape Town holds artefacts from former residents of the once multicultural community that was bulldozed by the apartheid regime. (Photo: Suné Payne)
When asked if the museum had any emergency Covid-19-related financial help from any government institution, Julius said they applied to the provincial and national Departments of Arts and Culture, as well as to the Department of Agriculture, Rural Development and Land Reform. "We made applications to the relief funds … there were various ones, so with arts and culture funds, we did not [get it] actually, because it was more geared to individuals, independent artists and creatives so not necessarily organisations," she said.
This is not the first time the museum has faced a financial crisis. In its 2018/2019 Annual Report, former director Bonita Bennett wrote: "Funding and long-term sustainability remain as ongoing concerns. In addition to smaller project-specific grants, our main funders for the past three years have been the Department of Rural Development and Land Reform and the National Lotteries Commission. As this comes to an end, and with other funding proposals in the process of being submitted, we find ourselves in a similar position to many other non-governmental organisations in trying to navigate the timing gap between grants."
The latest call for donations, she says, has been well received, with some international support given thus far through previous visitors. On their GivenGain page, the museum had managed to fundraise R134,437 by Tuesday afternoon, 8 September.
After being in lockdown from 26 March 2020, the museum partially resumed operations in September, but only pre-booked tours. From 1 October, the museum will take walk-in tours – both guided by the District Six storyteller and self-guided. There would be tours from Tuesday to Thursday, with limitations on how many people are allowed at a time, and sanitising.
When asked if she could say anything to the relevant departments about financial assistance during this period, she said: "I think I would say it's important to support independent community museums, whether it's the D6 Museum or independent heritage projects. I think there's a real sense that we need independent cultural spaces that are able to… well, speak truth to power, I suppose, and be able to look critically at the City and the country. So my appeal would be that those departments support independent community museums in that way. I think it's easy to make that appeal just for the museum, but there's a bigger picture in how we support local communities to tell their stories, to create heritage projects to sustain them without losing their independence." DM
For more information about the District Six Museum, please contact them at https://www.districtsix.co.za/