Obz Car Boot Sale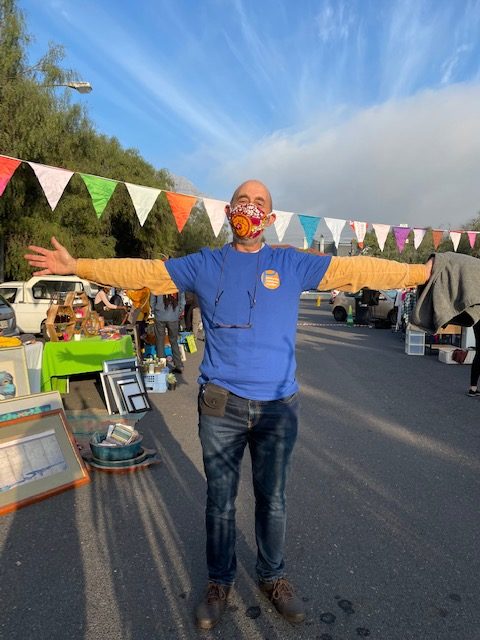 The Observatory Civic Association, Liesbeek Action Campaign and locals from the Observatory community came together to launch the first Obz car boot sale on Saturday the 12th of June.
 The Pepper tree car park behind the Kwikspar came alive with community! Locals selling an assortment of gems, incense, hardware, clothing, art, plants, bric a brac – you name it! A special copper pot from Portugal caught my eye but was sold in a flash!
The R50 fee per vendor to participate was donated towards the Liesbeek Action Campaign. R1000 was raised in total.
Georgia McTaggart donated a beautiful strawberry planter ~in a gorgeous pot to be raffled for donations. Thank you! Leslie London chair of the OCA won! We swear it wasn't rigged.
Smile FM's Franrico Mc'd the event and gave his best in supporting the local sales. Thank you!
The Liesbeek Action Campaign merchandise was on sale to raise funds – you can still get bumper stickers and t-shirts, to support us please reply to this email, tshirts are R200 and bumper stickers R30. We need your support, Leslie can be seen wearing his T-shirt in the photo.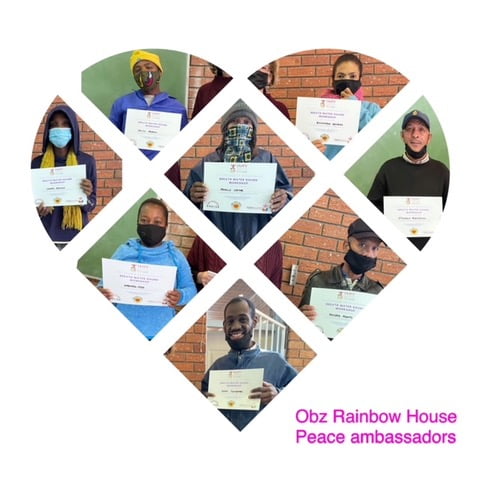 The last week of June, just before our president announced level 4 lockdown the Obz Rainbow house participated in a community Breath Water Sound program hosted by the Obs Pasta Kitchen & Streetscapes.
The participants all formerly homeless residents of Observatory and the surrounding Streetscapes homes in the city bowl and Kuilsriver came together for a three day program learning ways to manage our stress in a healthy way using breathing techniques, meditation and yoga.
Thank you to Jp & Lance for providing the venue at the Youth Solutions hall in Salt River and to all the volunteers from Obs Pasta Kitchen for making this happen.
The Obz rainbow house is still looking for donations to keep them open, please see info below.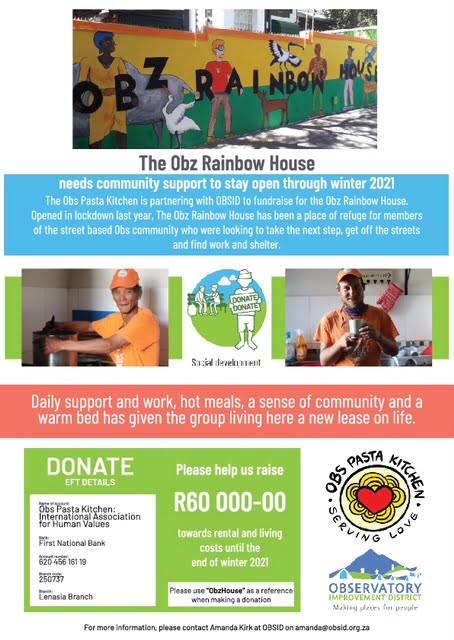 #maketheliesbeekmatter
https://www.backabuddy.co.za/oca-fundraiser
Kimon Kiki Bisogno
WhatsApp: +27847710485 / Call: +27646761626
instagram Obspastakichen
Facebook Obspastakichen