Local bakers provide Essentially Obs with its daily bread and other bakes. (Photo: Sebastian Hermansen)
NEWS
| By Melanie Farrell | 30 October 2020
Essentially Obs is the essence of a close community and everything it sells has a story. The four women behind the pop-up co-op talk about daily essentials and opening up during lockdown.
A fresh-baked bread post by Essentially Obs on Instagram brings back memories of hazy days in student digs in Obs and, many years later, my first house purchase, a tiny semi in Arnold Street.
It's been 20 years since I lived in the area, where long-time residents and itinerant students still live side-by-side. When I pop in to the pop-up one weekday morning in early-Level 3 in search of some of the Insta-famous bread I feel right at home. There's a vendor selling spekboom in recycled tins outside the double-fronted Victorian building and I pause to admire his ingenuity.
Walking into the shop I'm enchanted by the sunlight trickling into the vibrant space filled with indoor plants, hemp clothing, pickles, honey, cheese, blankets and bakes. But I'm here for the bread and I find a loaf of still-warm ciabatta and get chatting to Carmen Life, sitting at the till, about life in lockdown and the pretty mask she's wearing. Then I find a mask of my own, beautifully made by a local. And some hot pickle that I know my heat-seeking son will enjoy, slathered over, well, everything he eats.
Carmen is one of four intrepid women behind the pop-up in Trill Road that opened on 1 June 2020, when South Africa moved to Level 3 of lockdown.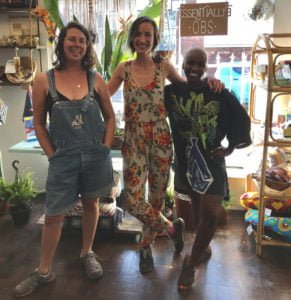 From left, Claire Erasmus, Carmen Life and 'social media butterfly' Phathiswa Mtiya are the Essentially Obs team. (Photo: Supplied)

With the closure of events and filming in Cape Town six months ago, film industry workers Danielle Knox and Carmen, along with plant people Fiona Milanese and Claire Erasmus, from Urban Foxglove, found themselves out of work.
"Pre-lockdown, I had literally just wrapped on a series that we had been shooting for six months," says Carmen, who lives in Mowbray. "I was in serious need of rest and had planned to take some time off. When the realisation of what was happening began to set in, I knew I had to get to work, not only to help myself but also to set up a space where others in our industry and in our suburb would have an opportunity to make some extra money."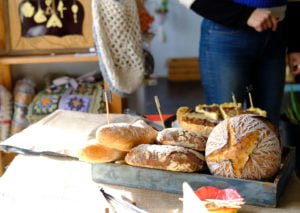 Saturdays are French market treat days at Essentially Obs. (Photo: Sebastian Hermansen)
Property agent Werner Steyn, the owner of 21 Trill Road, asked the Observatory community to submit ideas for the space because it had been standing empty for a while. Danielle and Carmen sent through their ideas and, after a vote by the community, they came out on top and were given the go-ahead to set up Essentially Obs.
When Fiona and Claire, who live in Obs, saw the appeal from Steyn they were tempted to apply but felt it was "too risky going into it on our own". This changed when Steyn introduced them to Danielle and Carmen and they decided to join forces, with Fiona and Claire doing the plant side of the shop and Carmen and Danielle the food side.
"We try as much as possible to source from Obs and surrounds, but if we find total treasure from further afield, it's always through a connection from Obs," says Danielle.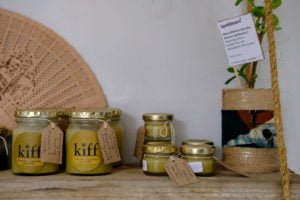 Healing cannabis balm from Kiff, and a spekboom. (Photo: Sebastian Hermansen)
"The veg comes from Quick Crop Growers (organic), a connection of my dad's, and Epping Market, the pickles and sauces are made by us, or close friends with a talent for such things, the cheese is sourced by Thomas Le Clech of La Rozell, who is famous for his La Rozell Authentic French Crêpes at Oranjezicht City Farm Market. He's also from Obs."
Danielle continues: "The jams are made by my mum, in Arnold St, the honey is from a very good friend of mine, who lives in Fish Hoek, and is out of work as he's in the hospitality industry. The eggs are fresh from Oude Molen in Pinelands every day.
"It's all family, friends, neighbours, and people who hear about us via those people or live in the hood. It's an incredibly exciting and inspiring venture. I do believe that is the clue for surviving the future that lies before us: artisan, homemade, local and organic as much as we can."
Claire and Fiona have adapted their landscaping business to the changing times. With more people opting to grow veggies at home during lockdown (see my story The Easy Peasy guide to growing greens) they have started selling veggie seedlings as well as house plants. "We have also started doing weekly organic veg boxes and this has been very successful and popular among our clients," says Claire.
I have some ciabatta for lunch with grilled halloumi, tomatoes and fresh basil growing in my garden and contact Danielle, to find out more about the baker behind the bread.
"Speak to Paulie or Tio Pollito, he's a UK-trained baker," says Danielle. Danielle forgets to tell me "Tio" is the baker's nom de geurre, leading to all sorts of confusion (mine) until I speak to him and he explains that baking bread for Essentially Obs is a first-light gig, something he does before he starts his day job as a pastry chef.
This is dedication.
"I get up at 5am, put the oven on low and leave the door ajar to start warming the kitchen," Tio says. "Usually I'm still fast asleep and the first to get mixed is the Pain de Campagne. This is made with a starter that I mix about six to hours in advance, just before I go to bed. This dough proves for an hour or so.
"Next I work the ciabatta, the biga is made 24 hours in advance. Once mixed the dough is allowed to prove for 1½ hours.
"Around 6.30am I turn out the Pain de Campagne and shape it before it goes into cloth-lined bowls for the final proof… another hour.
"If I've timed it well at 7am I can gently knock back the ciabatta, portion and shape. It goes on to a cloth-lined tray that has been liberally dusted with flour and pleated to stop the rising dough from touching. Now the oven gets turned up to full steam… 250ºC.
"At 7.30am the Pain de Campagne is turned onto wooden peels that have been dusted with semolina. I mist the oven with water to increase the humidity, giving the bread time to rise before the crust sets. 30 minutes later they're done.
"At 8am… there's the same process for the ciabatta.
"All in all it's about a 3½ hour process. Because I bake from home, during the first proof I usually play a game of 40 winks, trying to get a few more minutes of beauty sleep. After the shaping of the loaves, I make some coffee and start preparing for the rest of my day."
Three-and-a-half hours of baking before doing a full day as a pastry chef? I need coffee and another piece of his ciabatta, savoured with new appreciation now that I know how much time and energy went into making it before I woke up.
"The response from the Obs community has been really positive and gives people a sense of hope and happiness when they step inside," says Claire. "There is something really special about the building itself and it has a history of being a party place back in the day. There are lots of good vibes and memories for a lot of people.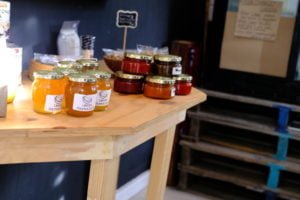 "The community has shown us lots of support and they often mention they want to support local and this is the conversation at the moment. We are moving away from senseless consumerism which, as we know, is the problem we face today. Destroying ecosystems and communities."
"I was sure it was the end of the road for our business in Level 5," says Fiona. "But things happened, there are new beginnings and new hope was born. The shop started and some work has come our way.
"Although there is a lot of uncertainty in South Africa there is uncertainty everywhere. I love SA. I can't see myself anywhere else. Now is the time to rebuild. Support local and grow small businesses. This is a time of hope even though it is challenging.
"Who would have guessed? We are like a plant shop padstal."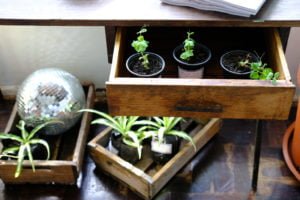 With the lifting of lockdown to Level 1 and the economy opening up there have been some changes. "Claire and I are holding the reins of our much adored space," says Carmen. "Danielle has been able to resume her film industry work and Fiona is back in her happy place, designing and creating gardens. We've also welcomed a new member to the co-op, Phathiswa Mtiya, who has worked in retail and is also a social media butterfly."
Every Saturday Essentially Obs holds a small French-themed market and French pastries are supplied by a Parisian baker, including brioche, croissants, pain au chocolat and baguette. Tio will also make a batch of "whatever strikes his fancy": doughnuts, or an Italian street food version of pizza, called pizzetta, eaten cold. "It's so good," says Danielle. DM/TGIFood
Essentially Obs, 21 Trill Road, Observatory is open every day except Sunday @EssentiallyObs
Find "Tio" at Lime & Thyme Kitchen on Instagram.