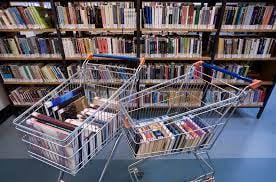 Dear All,
The time has come to make some tough choices and one is to close our Woodstock branch. Sadly, Woodstock has not quite recovered from the Covid days (it was always upcoming), and with our other shop in Observatory so close to this one, and thriving, it appears that Woodstock has run its course (for now).
We will keep our presence at the Biscuit Mill on Saturdays and Sundays and will hopefully still see many of our regulars there.
With that in mind, I have decided to have a 50% closing sale during the last week of September (26 September-1st October), to decrease the amount of books that need to be lugged across (books are heavy!), and to have one last thank you, and possibly a chance to see a few of you before we move.
The only items not on sale, are the few consignment items we have; those books will have been moved already. Please bear with us, as there is always a chance of an error, but we will deal with this in good faith.
But wait, there's more! We're bringing in a lot of old stock from Observatory which will also be reduced by 50%.
We'll be posting more info on the Facebook events page here as we progress.
For those of you not in Cape Town, the reminder email will have the sales code for all Woodstock stock.
See you at the Biscuit Mill and in Observatory from Stefan Blank and the Blank Books Woodstock team!