Dear Koena Art Institute Family.
We are happy to share an exciting line up of events and exhibitions at the institute. These events are an explication that expresses our theme "The evolution of indigenous art",
With each one being specifically curated by the Koena Art Institute team, independent young entrepreneurs and cultural and creative contributors.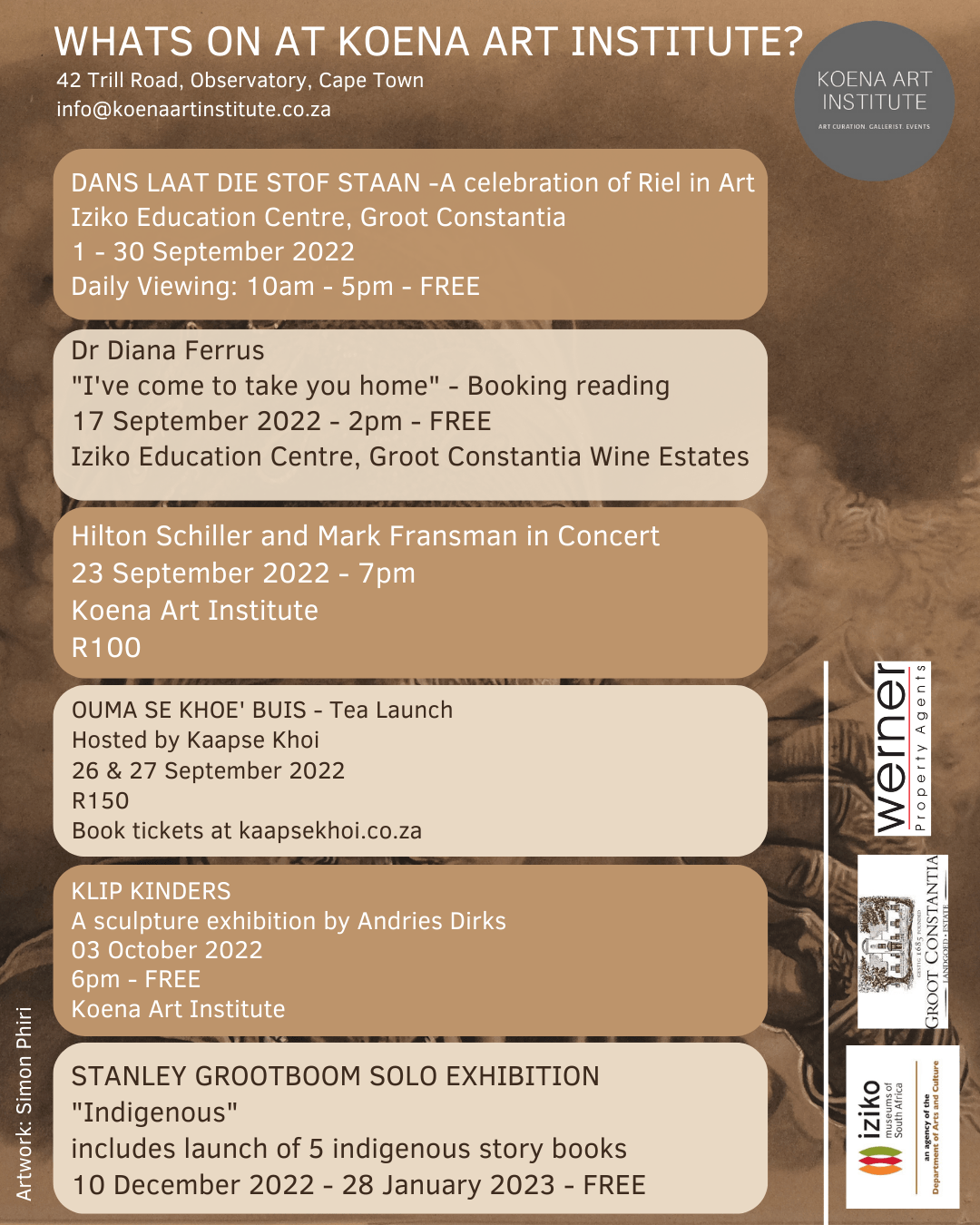 1 – 30 SEPTEMBER 2022
We are happy to partner with Groot Constantia and Iziko Museums of South Africa to host the exhibit "Dans laat die stof staan", which celebrates Riel dans and movement in art.
FREE Daily Viewing from 10am – 5pm
17 SEPTEMBER 2022
Spend an hour with Dr Diana Ferrus at the Iziko Education Centre at Groot Constantia Wine Estates, as she reads from her prolific book – "I've come to take you home", notwithstanding the impact of the poem.
Book signing at the event
FREE
23 SEPTEMBER 2022
Composers and Multi-instrumentalists Hilton Schilder and Mark Fransman at the Koena Art Institute, A powerful musical duo featuring mouthbow, piano, saxophone, flutes and percussion.
R100
26 & 27 SEPTEMBER 2022
Ouma se Khoe'buis is a curated Tea tasting experience which will explore both the rich aromas of herbal teas their medicinal properties as well as the rich heritage of cultural quirks familiar foods & heritage secrets.
YOUR TICKET COVERS
A plus one (Bring a friend, family, lover or member from your community, x2 cups of tea per person, finger foods, poetry and tea exhibition
Tickets for Ouma se Khoe'buis can be booked here: kaapsekhoi.co.za
R150
03 OCTOBER 2022
a sculpture exhibition by Andries Dirks –
6pm
42 Trill Road, Observatory, Cape Town
FREE
10 DECEMBER 2022 – 28 JANUARY 2023
"INDIGENOUS" by Stanley Grootboom
Art Exhibit and launch of 5 indigenous story books
FREE
To book your attendance email your name, surname, event name and date to
info@koenaartinstitute.co.za
Observatory, 42 Trill Road, Observatory, Cape Town. South Africa.