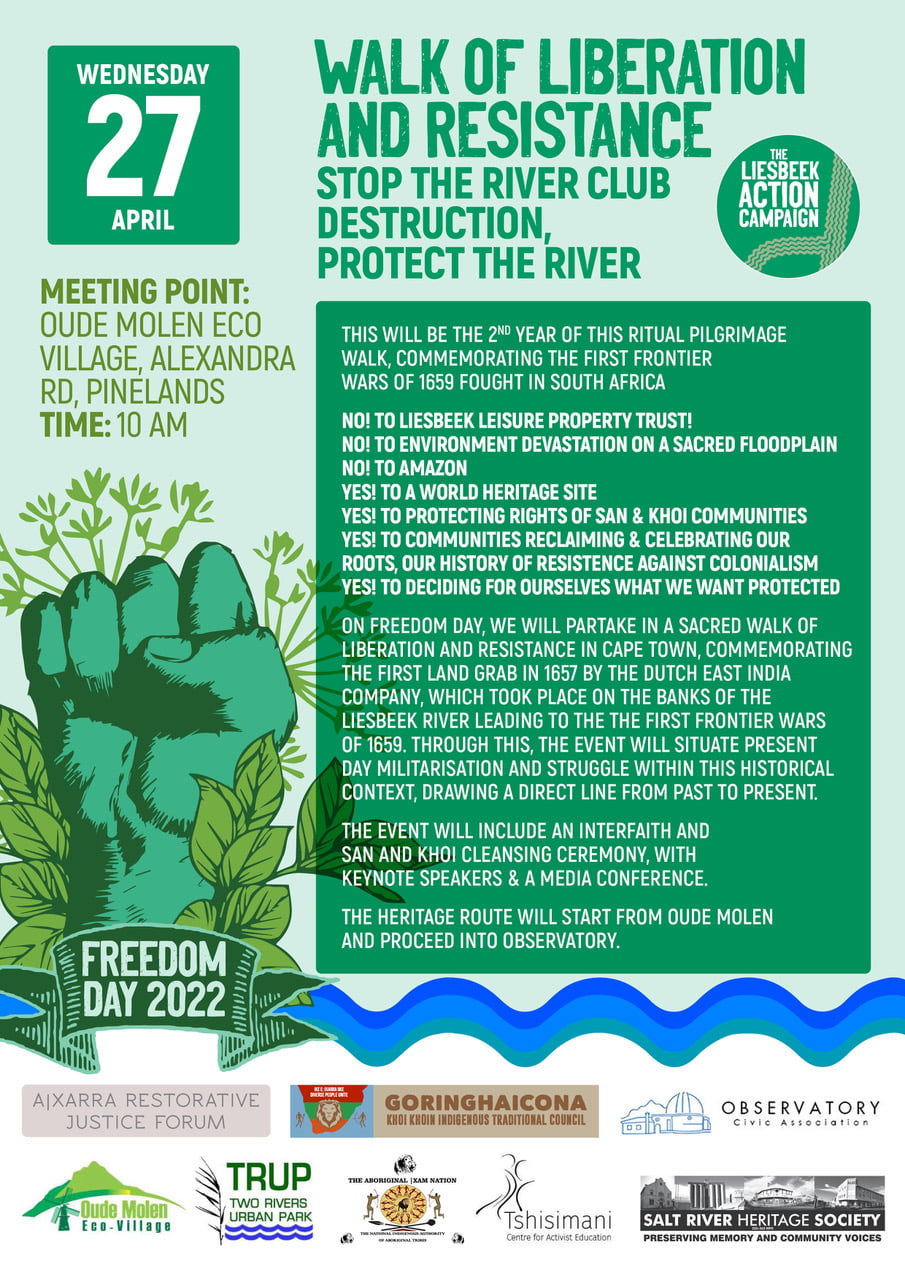 Dear Obs residents
The Observatory Civic Association is partnering with a range of other groups to undertake a Walk of Resistance and Liberation intended to stop the destruction taking place at the River Club site and protect the Riverine valley of the Liesbeek from the construction of a massive commercial site which will house, amongst others, Amazon's Africa Headquarters.
The River Club site is particularly sensitive from an ecological point of view, being part of some of the last remaining wetland in urban Cape Town, as well being a Ground Zero site for the First Nation Khoi and San groups whose ancestors resisted the successive colonial predations of the Portuguese, the Dutch and later, the English.
On March 18th, Judge Goliath issues a ground-breaking interdict to halt the construction pending the High Court review. This has given us an opportunity to ensure the courts can scrutinise fairly the decisions made by the City and the Province to allow this development to proceed on a sacred site of huge environmental and heritage significance.
Join us to affirm the protection of the river through a walk of resistance and liberation, commencing at the Oude Molen ecovillage and walking across to the Liesbeek River side for a cleansing ceremony and speakers.
The event is co-hosted by the Observatory Civic Association, the Goringhaicona Khoi Khoin Indigenous Tradition Council, the Aboriginal | Xam Nation, the A|Xarra Restorative Justice Forum, the Two Rivers Urban Park Association, the Salt River Heritage Society, the Oude Molen Eco Village and others.
Starts 10am at the Millstone in the Oude Molen Ecovillage – Wednesday 27 April 2022 (Freedom Day).