Level we have almost WON!
We can do it together – A story of Observatory working for you ~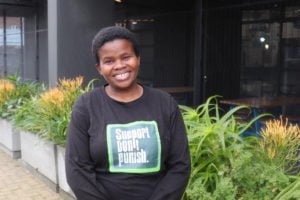 X and Y, Obs regulars approached Kiki at the weekly human values session run by Obs Pasta Kitchen at the Youth Solutions hall in Salt River seeking advice on shelter and rehab. Kiki approached Bongi at Obsid via email who asked for X and Y to do an intake process at Obsid and register themselves as homeless of Observatory which they did. Shortly shelter and medical assistance for X and Y were arranged by OBSID. X and Y are now off the streets and in recovery.
This is a great example of how when members of our homeless community are ready to take the next step and get off the streets there is efficient support. Thank you to Obsid, especially Bongi for all the assistance, we wish X and Y all the love and support they need on this journey.
The Obs Pasta Kitchen would like to say a BIG thank you to the International Association for Human Values and the Stand for Humanity project for sending us 100 immunity packs to hand out to our community.
These were distributed as follows:
Obs Pasta Kitchen beneficiaries received 63 packs
Streetscapes beneficiaries in Observatory received 15 packs
Streetscapes beneficiaries in Kuils River received 14 packs
Streetscapes beneficiaries in Cape Town CBD received 8 packs
Everyone was incredibly grateful to receive this healthy gift of 1000mg vitamin C effervescent tablets, and turmeric and ginger masala tea.
See the photos attached.
Obs Pasta Kitchen has been working with the Streetscapes house in Observatory and its sister locations mentioned above. These are houses that have been set up in different areas around Cape Town to home the formerly homeless and provide employment in the form of organic vegetable gardening and cleaning. Obs Pasta Kitchen's dream was to assist the homeless with shelter and the Streetscapes partnership has made it come true.
Thanks again for your support IAHV!
Get INVOLVED! JOIN US!
An EXCITING opportunity with Obs Pasta Kitchen & Streetscapes 🙂
Kimon Kiki Bisogno 🙂 – OCA Social issues