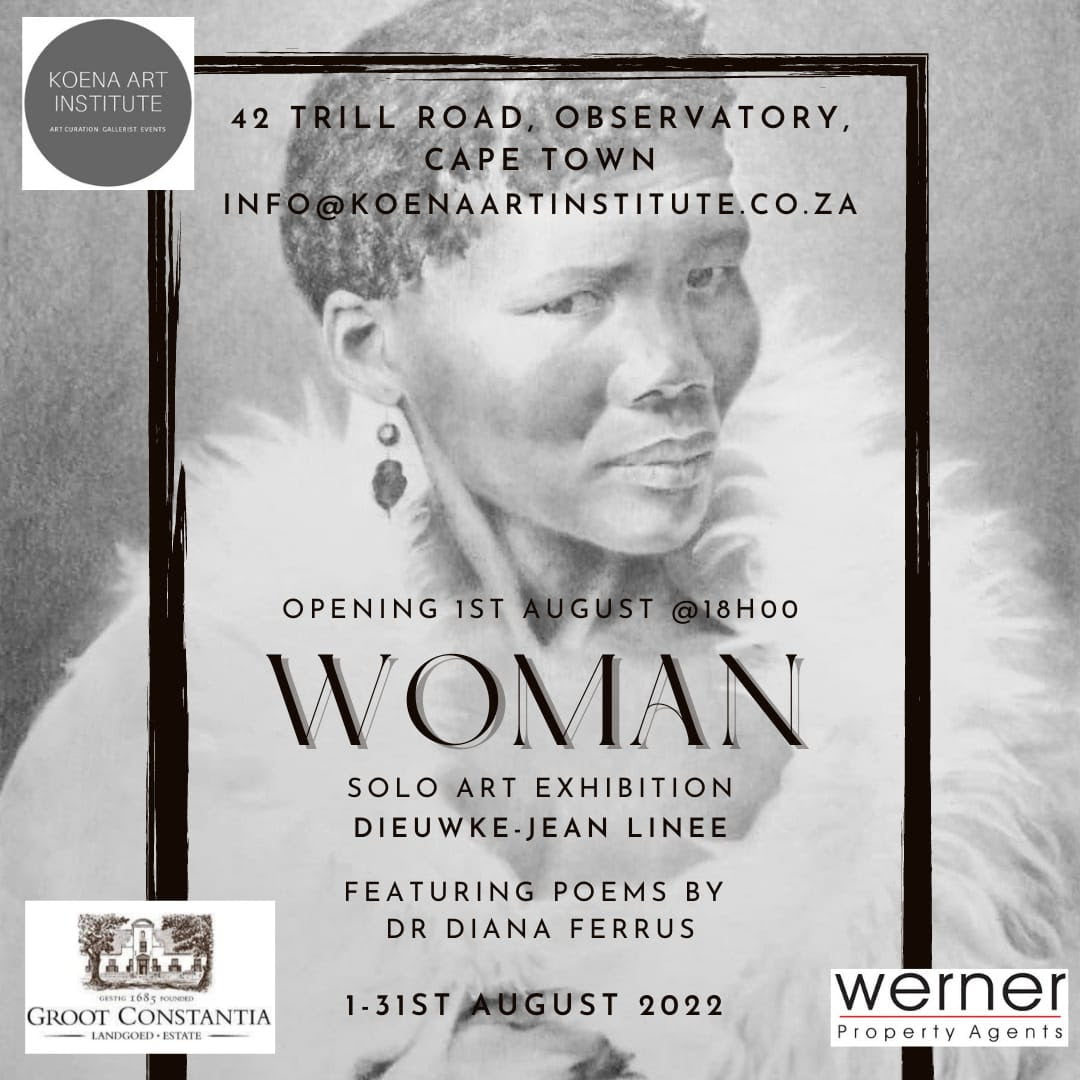 The Koena Art institute hereby wishes to invite you to another astute art exhibition opening Featuring Dieuwke-Jean Linee
Join us for a sophisticated evening with the Institute's youngest female artist showcasing her new art collection dedicated to South African Women who greatly contributed to our South African Landscape in their respective fields.
Dieuwke-Jean Linee
I am a 27-year-old born-free, female artist from Paarl in the Western Cape, South Africa. Art has been a part of me since the age of six when I loved copying the covers of my Disney DVD collection, see photograph attached. During my high school career, I took Visual Arts as a subject from Grade 8 in 2008 to Grade 10 in 2010. In 2010 I was amongst a selected few learners chosen at La Rochelle Girls High School to study Visual Arts as an additional subject at the Jack Meyer Art Centre in Paarl. My love for Dramatic Arts made me choose this subject during the last two years of my high school career. I have never stopped drawing after Matric, even whilst studying Tourism Operation Management at Boston College I kept on drawing.
My late father, former Springbok rugby player, Tinus Linee, always encouraged me to keep on drawing even when I choose to do Dramatic Arts instead of Visual Arts in Grade 10. I have never followed in his footsteps by participating in sports as he did, but in 2012 he had the opportunity to see me receive a trophy for best monologue at the Paarl Valley Eisteddfod. In 2014 I lost my father to Motor Neuron Disease after a 12-month sickbed. His sickness and the conditions surrounding his passing had a very traumatic effect on life. To such an extent that I could not write my final exams to complete my Diploma in Tourism. I fell into a serious state of depression, but despite of the medication I always had my art to fall back to. I have felt like I could express my feelings through creating with my hands.
In 2018 I had the privilege to shadow a well-known local artist in Paarl, Kervin Cupido, for three months. He helped me with composition, color mixing and encourage me to use acrylic paint more. When I became a tourist guide in 2019, the beauty and the architecture of the historical buildings of Paarl captured me to such an extent that I started to draw and paint them. I did a few ballpoint and pencil sketches, oil pastel drawings and acrylic paintings.
I love drawing what I see, especially beautiful things we often look over in our everyday lives. As a perfectionist I love paying attention to the smaller details and physical pencil strokes rather than the end result. That way each and every artwork I create will always surprise me in the end because it is never as I initially imagined it would turn out to be. As faces never were one of my strengths, this remained a big challenge for me. In 2021 I started to face this "fear" that I had and began to draw faces, especially graphite pencil sketches and oil pastel drawings.
I have been planning my first solo exhibition for Women's Month for some time, without even knowing where I will be exhibiting!
With This Exhibition, I commemorate the known and unknown woman for the roles they have played in the history of our country directly and indirectly as well as their contribution to our democracy. From the earliest roles played by the first female interpreter right up to a female activist for woman with disabilities, to only name a few, as an upcoming female artist, I want to celebrate them!
Exhibition details:
Dress Code: Smart
Time: 6pm for 6: 15 pm – 8pm
Address: Koena Art Institute: 42 Trill Road Observatory, Cape Town
RSVP to: Info@koenaartinstitute.co.za