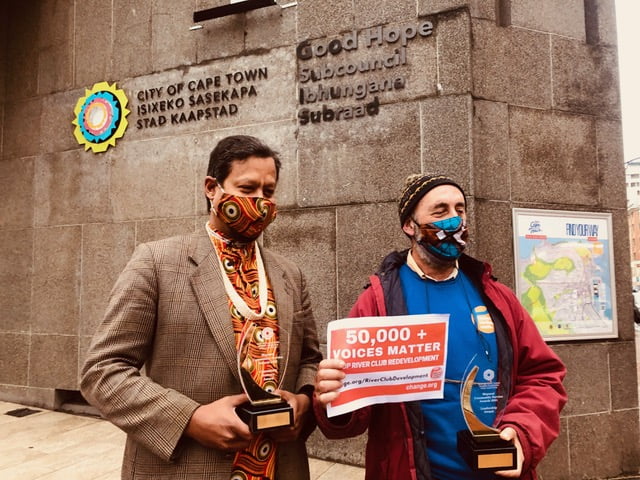 The Mayor of CT put out a call for people to be nominated for various community service awards on the 17th of June. Less than 24 hours before the awards were given, we were very pleasantly surprised to discover that OCA chair Leslie London had won the award for LEADERSHIP  – by "exhibiting selfless leadership at the grassroots level win encouraging, promoting and supporting the community". Furthermore, longstanding OCA ManCom member Tauriq Jenkins won the ward for COMMUNITY BRAVERY – by "being courageous, dauntless, a person who faces dangerous or difficult situations with courage and putting themselves at risk for another".
Both our OCA ManCom members used this scaled down (due to the new lockdown measures) award ceremony to get maximum publicity for our campaign to stop the River Club development from going ahead!!
BIG SHOUT OUT TO OUR TWO LOCAL HEROES – Leslie and Tauriq!!
You can see the videos of how they turned the tables on the City here: