I hope that, by now, most of the residents are at least aware of the local community TRASH-Bash monthly clean-ups that take place along the River in Observatory on the first Saturday of every month?
This little Community project was started by Ricardo Sa in 2013 and has run almost continuously since, barring a short time after Ricardo left and no-one took it on! We are supported by the Friends of the Liesbeek, with admin (we use their bank account for donations), the supply of sponsored trash bags and the use of any litter-pickers available. We also employ 4 team members from the full-time River Project team, who know the river intimately and do the bulk of the work. Sadly, this is because the volunteer turn-out is very poor but the team are always keen to get some cleaning done (outside their work-week) and earn a bit of extra cash. We capture between 50-80 bags of trash every month, a large proportion of which comes from the busy roads surrounding this section of the river and through the storm-water drains. It would be so helpful if people in surrounding suburbs would pick up the trash in the streets where they live as a LOT of it ends up in the River! And eventually, most of it comes to rest in TRUP.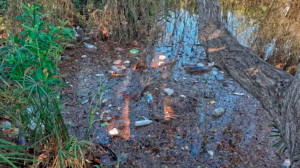 But I often wonder whether the community at large actually know what the Friends of the Liesbeek DO on the River, I have been told that people don't join our clean-ups because we "throw vagrant's things in the River" (as if!) and because "the City should be doing this" (well, they aren't, and why wait for someone else to do something that we can, where we LIVE?), amongst many other silly reasons, so I thought I'd give a short description of what it is we try to do along the River:
This particular Friends group was founded in 1991 and has now been hard at work restoring and maintaining the ecological functioning of the urban Liesbeek River for almost 30 years! The stated aim of the Friends is to "create an awareness of the importance of the Liesbeek as a green corridor in an urban setting and to rehabilitate, enhance, and conserve it and its environs." The Friends are dependent on a mutually beneficial partnership with the City of Cape Town and we have adopted an unflinching, 'take-it-or-leave-it' approach to volunteerism that has allowed it to operate effectively on the same level as the government departments with which it deals. FoL's primary effort, the Liesbeek Maintenance Project is a large-scale river rehabilitation scheme and which is reliant on the knowledge and support of the municipality. The continued existence of the Friends shows the potential of volunteer organisations and demonstrates that, in partnership with government, much can be accomplished. The key is to stand apart from, but work with government.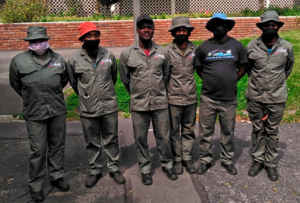 The LMP team, which is supervised by Mncekelekeli Klaas, are employed by us on a full-time basis to complete this hard work and we strive to ensure that these lovely people are empowered through employment as well as education. They have previously enrolled in an environmental practices certificate at Omni HR Consulting and have been able to practice what they have learnt through FoL's environmental education portfolio. They have been involved in the facilitation of school outings and corporate volunteer days, such as clean ups and tree plantings. It is our aim to ensure that these hard-working environmentalists utilise their time in the LMP team to become catalysts of change in their respective communities.
Recently, our Project Manager, Ronald Sabelo Memani and team member Sivu Zwide were motivated to take their expertise "home" to Khayelitsha for World Clean-Up Day on 19thSeptember. They, and some 30 volunteers (including the indefatigable HelpUp Team) collected 153 bags of rubbish from a field adjacent to Eyethu Shopping Centre. Many of the local children joined in and a great deal of information was imparted about dumping and littering and as a result the field is now a much safer play-space than it was. Isn't that great?
We know that none of this work is possible without an active river community & we need a diversity of supporters. But make no mistake we do need support!
FOL have, in the past, received substantial funding from ABAX and SAB, but the uncertainty of this cash-flow dogs our heels from year to year, and particularly in these Pandemic-y times. We feel strongly that a diversified funding stream would be more sustainable and secure the future of the work (and employment of our team) and therefore are actively looking for smaller "investments" from companies and individuals who work and live and play along the River.
Surely by now, there can be no question as to the necessity of funding such work, given of our interdependence with nature and the fact that clean air and water are vital for everyone's survival!
There is more detailed information on our website [ http://fol.org.za/about/ ] and we do love engagement from people via our Facebook and Insta pages too.
FB public: https://www.facebook.com/friendsoftheliesbeek
FB closed group: https://www.facebook.com/groups/friendsoftheliesbeek
Instagram: https://www.instagram.com/friendsof_theliesbeek/
Our little T.R.A.S.H. (Taking Rubbish Away and Saving Habitat) team in Observatory, have, for the past 2 years, been able to raise enough money to cover the monthly clean-ups by running a raffle at Streetopia. We are so grateful that we have had such great support for this. We hope to run another raffle in November, whether online or in-person, remains to be seen and we hope you will purchase tickets by the dozen!
If anyone out there wants to be added to our mailing list or would like to get involved in the co-ordination of the clean-ups, please drop us a line at trash@fol.org.za or send me a WhatsApp on 0780080464.
We hope to see many of you on 7th of November!
Kari Cousins